allison
This user hasn't shared any profile information
Posts by allison
This article is from Jamie M Swanson AKA "The Modern Tog". Click here to see the original post on The Modern Tog Blog.
When I was first starting out in photography, I had no idea what I was doing.
I think I charged something insanely low like $50 for a session plus a disc of all the digital negatives. I put the images in an online gallery, but I didn't really sell many prints. I got lots of compliments about how people loved that they got the disc and could do what they wanted with it.
I told myself this was simply a case of meeting my clients' needs and giving them what they wanted, so it was a good business practice.
The problem was, my ideal clients, the ones who valued photography and really wanted to preserve their memories didn't just want the disc. They wanted someone to walk them through the photos, help them decide which ones would look best on their walls, and suggest products that would truly help them preserve this time in their lives as best as possible. I just didn't believe that.
Not only that, but sometimes life gets busy and sometimes people simply don't do what they intend to do. Eventually I stopped just giving the disc away and started charging for it to help encourage print sales, but then I'd get clients who raved about their image but never actually bought anything. Life just got busy and they never got to it.
That made me a Sad Panda. See?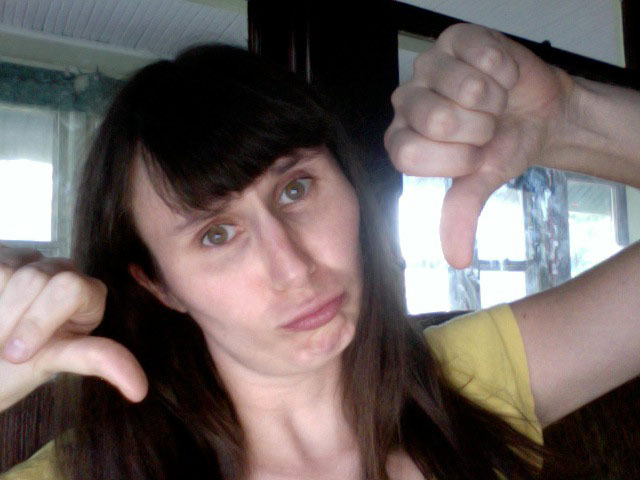 I wanted to keep this from happening in the future and find a better way to make sure that clients placed their orders. I had heard that projection sales were the way to go, but I didn't have a studio so that didn't seem practical.
I made excuses. I even believed them.
Honestly, I was afraid to do in-person sales. I didn't want people to feel pressured. I didn't want to offend them or annoy them.
I was even afraid they'd hate the photos and I'd have to sit there with them in person and feel their disappointment the first time they looked through them.
There were SO many things that kept me from wanting to do them. They were inconvenient, and I'd have to drive to their homes or meet in a coffee shop and find a way to go through everything without the luxury of a studio.
Not doing in-person portrait sales is a HUGE mistake, and almost every newer portrait photographer makes it. Including me. So here's what moved me to start doing in-person sales and what you can learn from my mistakes.
The first in-person portrait sale
Eventually, I realized that I was putting far too much time into portrait sessions to be making only a few hundred dollars and that I needed to increase my average significantly in order to turn a profit.
I raised my prices, mostly to prints, and thought I'd give in-person portrait sales a go. I didn't have much hope in it, since I live in a small, blue-collar town where average salaries are low. But I talked to other photographers, and they assured me that it was going to be awesome.
And it was.
My first in-person sale was triple what my average sale was in the past.
My next one was even better.
And it blew my mind.
CLICK HERE TO READ THE REST OF THE ARTICLE AND GET SOME AWESOME ADVICE FROM JAMIE!
Summer is almost over! Day camps are ending but school has yet to begin. The kids are starting to literally bounce off the walls. This is a great project for both you and your kids. Have them help you create this roll of film as an art project. Once it's completed it becomes a great prop to use during fun photo session or as a unique piece of decor in your photo studio.
This post is from Photojojo. Find out the detailed instructions and view the original post by clicking here.
BEFORE:
AFTER:
Ever get bogged down with all the little things? Running your own photography business can get pretty overwhelming! From managing social media to refining client contracts (and of course editing photos) it can make your head spin!! Jumping around from task to task may not be the most productive thing to do. See below for some tips on how to accomplish more during your work day.
This article was originally published by Entrepreneur.com written by Jane Porter. Click here to see the post.
Rachel Weeks couldn't get through the workday without constant interruptions. Employees at her Durham, N.C., apparel company, School House, would ask her to sign checks, approve designs and field questions whenever they wanted. Realizing that routine tasks were taking over her day, she started signing checks once a week, sending out packages at a set time each day, and addressing staff questions at weekly meetings.
Those changes have helped Weeks grow the business by developing a new e-commerce site and partnering with a big-box retailer. So far this year, revenue has risen 20 percent, compared with the same period in 2011. "In a small company, there's this tendency to think … if anybody needs something, they can come and find me," she says. "You really have to carve out those hours of uninterrupted work time."
But that means something's got to give. Here are nine daily tasks you probably can eliminate from your workday to help you stay focused and be more productive.
1. Stop overloading your to-do list. You might feel the need to write down everything you need to accomplish each day, but resist making an impossible list of daily tasks, says Peter Turla, a time-management consultant in Dallas. Compiling a lengthy list of things you need to accomplish might seem productive, but you could be doing more harm than good. "It results in too many items at the end of the day that are not completed," says Turla. "That will make you feel stressed out, inadequate and unfocused." Instead, create a manageable list of essential tasks that should be finished on a given day–and save the rest for later.
2. Stop having open-ended meetings. Figure out your priorities before you call a meeting and make them clear to all the attendees, says Doug Sundheim, a New York consultant and executive coach. Too many small-business owners waste half the meeting just getting to what they really want to talk about. Sundheim suggests putting three priority topics at the top of your agenda to avoid getting sidetracked by other issues.
3. Stop answering repetitive questions. If you find yourself answering the same question from clients or employees frequently, you're wasting time, says Peggy Duncan, a personal productivity trainer in Atlanta. Instead, put together an FAQ on your website or create instructional videos that people can access via links at the bottom of your emails. "Figure out better ways to answer [questions] without your having to be involved," she says.
4. Stop taking the same follow-up approach if people ignore you. If you've sent someone an email and the recipient hasn't responded, don't keep firing off more emails. Try communicating in another way–calling, sending a text or visiting in person if it's appropriate, says Jan Yager, author of Work Less, Do More (Sterling, 2008). Too many business owners get bogged down communicating with people inefficiently, she says.
5. Stop eating lunch at your desk. Tempting as it might be to scarf down a sandwich between emails at your computer, don't make it a daily routine. A short break will help you make clearer decisions, Sundheim says. "You get your best ideas when you get up and walk away from your desk."
6. Stop making regular visits to the post office. Instead of going to the post office, schedule mail pickups from your business or home office, Duncan says. You also can buy envelopes with pre-paid postage or invest in an inexpensive scale and postage printer.
7. Stop making piles. Eliminating clutter can boost efficiency, Duncan says. Rather than organize papers in piles whose logic is known only to you, stick to a systematic filing system and eliminate any pieces of paper you no longer need.
8. Stop scheduling appointments by phone or email. You can waste a lot of time just trying to find a time that works for a meeting. Instead, use an automated system that does the work for you, Duncan says. She suggests using software, such as Schedulicity or Appointment Quest to let people schedule appointments with you online.
9. Stop signing every check. Designate a specific day and time for certain tasks, such as signing checks, rather than allow them to randomly interrupt your workflow. Better yet, you can have your signature printed on checks to avoid signing each one. Programs like QuickBooks let you use preprinted checks and keep track of transactions, Duncan says.
On July 15, photographer Billy Hunt will appear on NBC's "The Today Show" to showcase his Screamotron 3000 photo booth, a portrait system rigged to capture an image only when the subject screams loud enough.
A Wired Magazine writer featured the Screamotron 3000 in Wired's Blog Raw File. Since the June 12 post, the story has been picked up by dozens of online blogs from all over the world. As a result, "The Today Show " is flying Billy and the Screamotron 3000 to New York, so the news anchors can scream for portraits live on the Plaza.
In addition to the Scream Portrait series, Billy Hunt considers himself to be one of the top 5 fake women's arm wrestling documentarians in the history of humankind and is working on a documentary film about ladies arm wrestling. He writes:
"The Screamotron 3000 is a converted boom box that takes a photo when you scream. Think Rube Goldberg meets the Wizard of Oz. By using a machine, I hope to offer a window through the inherently artificial process of portraiture into real human emotion. To this end, I was partially successful. People can be just as awkward and self-conscious while screaming. Better images often came from me staying in the room, stoking the flame of emotion, and guiding them through the process. The photographer matters. Who knew?
One thing I did not anticipate was the project's mass appeal. A line of people from all walks of life showed up. They brought dogs and costumes. They cursed and spit at me, called me names and made their babies cry for the camera.
What created the demand? Are people clamoring for authenticity in their media, a release of emotion? Maybe it is simple. Just that there are a lot of people who have something to scream about."
Create Instagram photo magnets with ease! Neil Enterprises has a 1″ x 1″ self-adhesive magnet which is perfect for showing off your instagram photos. All you need to do is print off your photo at home, online, or one of those photo kiosks found everywhere.
Then just follow these steps:
See, SUPER easy! These photo magnets come in SEVEN different sizes, ranging from 1″ x 1″ to 5″ x 7″.
You can buy them on www.neilenterprises.com by clicking here.
Today is the kicks off the first of FOUR complete weekends in July. The official start of summer was a couple weeks ago but if you live in the Chicago area like we do, it's been pretty warm for months. Staying hydrated is important for EVERYONE! From photographers to embroiderers, from moms to teens. We've got a huge selection of great photo gifts for summer.
Be sure to beat the heat with these…
From left to right: #574 Sports Bottle,
href="http://www.neilenterprises.com/stainlesssteelcancooler.aspx" target="_blank">#564 Photo Can Cooler, #512 Photo Ice Bucket, #578 Stainless Steel Water Bottle, #575 Photo Travel Tumbler
Neil Enterprises was recently featured on Rock the Shot, one of our favorite photo blogs/forums. It's a great resource for professional photographers. See the post below or see the original right here: http://www.rocktheshotforum.com This was originally posted on May 16th, 2012. The special deal and giveaway mentioned are no longer valid.
Featured Vendor + Giveaway: Neil Enterprises
We are so excited to welcome Neil Enterprises to the Rock the Shot Blog today!  Take a moment to learn more about all of the AMAZING products they offer for photographers.  Also… be sure to enter the GIVEAWAY for a chance to win a $100 Gift Certificate to Neil Enterprises.
About Neil Enterprises
Neil Enterprises, Inc. is the largest provider of innovative photo novelty items in the United States!  From self-stick albums and CD/DVD folios to photo snow globes and key chains, Neil Enterprises offers quality and affordability. Our easy to assemble products are perfect for the do-it-yourself photographer.
For the photographer looking to stand out from the pack, using our photo novelty items can help you brand yourself. Using products like photo keychains and photo drinkware you can display both a photo and your company logo. Your customers will be showing these personalized items off to their friends which can lead to refferals!
Neil Enterprises also has a line of elegant self-stick albums and CD holders. Favored by wedding and boudoir photographers these are a fantastic solutions for photographers on a budget. The CD holders can hold anywhere from one to four discs plus showcase a photo and the albums come in a variety of styles ranging in size from wallet to 10" x 10".
All of the products are sold by the case at wholesale prices. You won't find a better deal anywhere else!
About Allison Fine: Allison is the Marketing Manager of Neil Enterprises. She is part of the third generation of the Fine Family in the business. The company was started by her grandfather, Jerry Fine in 1961. Having grown up around photo products her entire life, she has become an expert in turning blank products into works of art using digital scrapbooking, photos, and even craft materials.
Visit Neil Enterprises at their WEBSITE and FACEBOOK pages today!!
For a limited time only, all Rock the Shot Fans can receive 10% off their order. Use code ROCK at checkout (Exclusions apply. Expires 5/25/2012)
Here's How Enter the Giveaway for a chance to win a $100 Gift Certificate to Neil Enterprises.  (Can be used on any of our products! *Not valid on button machines or Sony products. Entire gift card value must be used at once. Valid for 1 year from date of receipt.) 
Please leave ONE comment for each item you complete. You have up to SEVEN chances to win:
1. Follow Rock the Shot on Facebook.
Extra Entries (Optional): Please leave additional comments on the blog for each of the following items you complete.
2. Follow Neil Enterprises on Facebook and if you like, let them know Rock the Shot sent you.
3. Become a member of Rock the Shot Photography Forum
4. Sign up for our Newsletter!
5. Follow Rock The Shot on Twitter
6. Follow Rock the Shot on Pinterest
7. Share about this giveaway on Facebook or Twitter. Type the following: "Go check out @rocktheshot at www.rocktheshotforum.com & enter to win a $100 Gift Certificate to Neil Enterprises".
There you have it! 7 chances to win this FABULOUS Giveaway from Rock the Shot and Neil Enterprises!
Hurry! Giveaway ends Tuesday, May 22nd at 11:59pm CST. Winner will be announced on Friday, May 25th, 2012.
LEGAL STUFF: This promotion is in NO WAY sponsored, endorsed or administered by, or associated with Facebook. You will NOT be notified publicly via Facebook if you are a winner. You MUST be 18 to participate. By entering this giveaway, you are providing information to Rock the Shot and NOT to Facebook. Prizes do not have cash value. There will be no returns/exchanges on any of the items.
Congratulations to Lauren Nassetta on winning a $100 Gift Certificate to Neil Enterprises.  Lauren, please email me at karlen@rocktheshotforum.com in the next 48 hours to claim your prize. Thank you all for participating and have a wonderful holiday weekend!
Neil Enterprises, Inc. has added five new styles of photo mounts to its Pro-Line series geared towards professional photographers. No longer just a go to spot for seasonal mounts, Neil Enterprises' new Pro-Line Photo Mounts offer elegance and sophistication for any occasion.
The new line of photo mounts was created due to a need from photographers looking to order high quality photo mounts quickly and efficiently. All of the new photo mounts are in stock and ship within 24 hours from when the order is received. Styles range from a tasteful marble design called the "Traditional Photo Mount" to the basic black called the "Timeless Photo Mount". Two additional styles feature a pop-out easel back that can be used horizontally or vertically.
All of the photo mounts are sold in cases of 100. Sizes range from 4" x 6" to 8" x 10". Pro-Line Photo Mounts are very economical with prices as low as $0.27 each. Neil Enterprises will soon be offering foil stamping on the entire new Pro-Line Photo Mount collection with turnaround times as short as two business days.
The Pro-Line Photo Mounts can be seen at www.neilenterprises.com/ProLinePhotoMounts.aspx
Neil Enterprises has been making a conscious effort to help the environment. We recycle over 100,000 pounds of paper and cardboard annually. We recently installed new plumbing that uses 43% less water than before and energy saving light fixtures that will reduce our utility bill 60%. Lastly, we have reformed our manufacturing processes and now are using 179% less supplies than in previous years.
Not only are these cost saving measures but it leads to less waste and a smaller carbon footprint. Are you doing anything to help your business go green? Got any suggestions for us to further our efforts? Let us know!
Here's a few articles for some easy things you can do to make your business greener:
How to Make Your Business Greener (and Save Money) – By Jim Witkin
10 Easy Ways Your Business Can Go Green – By Susan Ward
Summer is around the corner which means the busy wedding season is about to start. Professional photographers are beginning to stock their shelves with self-stick albums and cd/dvd cases. While everyone enjoys the calm before the storm, check out these 7 Geeky Wedding Pictures via Mental Floss. And don't forget, if you're in a bind and run out of one of our products, Neil Enterprises can ship out items THE SAME DAY you place your order, for no extra charge!
allison's RSS Feed